BCWipe Task Manager



BCWipe data wiping software includes the BCWipe Task Manager utility for configuring wiping tasks to be run automatically. In addition to setting the time for running a wiping task, you can also set special options for the task. For example, you can configure BCWipe to wipe free space of all your hard drives at midnight every Friday and use the U.S. DoD wiping standard for the process.

BCWipe Task Manager is run from the BCWipe program folder. The following picture displays the main window of the program: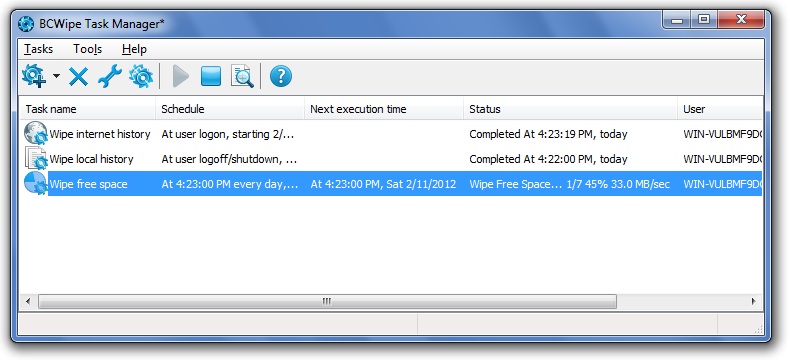 This picture illustrates three tasks that BCWipe will run automatically. You can create as many tasks as you wish by selecting the Create New Task command from the Tasks menu.
BCWipe Task Manager is used to control the following tasks:


Delete with wiping.

BCWipe will wipe certain selected files or folders automatically according to a schedule.




Wipe free space.

BCWipe will wipe free space to remove all traces of previously deleted files. This task can be set to run on a selected hard drive partition or on a set of partitions.




Wipe Internet History.

BCWipe can completely wipe all traces of your Internet history: cache, cookies, browsing history, search history, saved passwords, last active tabs, etc. Supported web browsers include the latest versions of Internet Explorer, Mozilla Firefox, Google Chrome and Opera.




Wipe Local History.

BCWipe Task Manager can be configured to clear traces of your local activity (not related to Internet history) which are stored on your computer. For example, Windows creates temporary folders for your user account and Recycle Bin folders. This task is also used to wipe names of recently opened files, which can be useful for security reasons. For example, you can configure BCWipe to clear the list of recently opened Word documents; so if another person opens Word on your computer, they would not be able to see which documents you've worked on.




Transparent wiping.

BCWipe's special Transparent Wiping feature securely wipes deleted or temp files automatically on the fly – eliminating time-consuming processes to wipe free space, wipe temporary files or wipe old file versions. Transparent Wiping is a specific task that can either be active or suspended, but it cannot be scheduled for a predefined time.

Swap File Encryption

The BCWipe CyrptoSwap utility allows you to encrypt the Swap File, which provides you with additional security. This is another specific task that can be active, but it cannot be scheduled for a predefined time.
'User' column
In addition to displaying tasks created by the current active user, BCWipe Task Manager in version 5 also displays tasks created by other users on that computer, as well as tasks assigned by an administrator using Jetico Central Manager. Information about the task owner (or creator) is reported in this special column labeled as User.
'Status' column
A column labeled as Status has been added to BCWipe Task Manager in version 5. When a task is running, it will be reported in this column. For Wipe free space, the Status column will report the current stage of the process. For other tasks, the Status column will report 'wiping...'. After the task is completed, this column will report the final task's status. The above picture shows that the Wipe free space is currently running; the other two tasks were successfully competed at the time of this report.
Managing of currently running tasks
Running tasks can be controlled with BCWipe Task Manager in version 5. For example, the user can Terminate the task or view progress with the View log file command. Both commands are available through the task's right-click menu and from toolbar buttons. Please note that only an administrator can terminate tasks created by other users.
REMOVED FUNCTIONALITY: The ability to Wipe unused space in the swap file has been removed from BCWipe Task Manager. Yet this functionality is still available when BCWipe is running in interactive mode (from Windows Explorer). This has been done because this operation allocates all available memory which can completely lock the computer. Since BCWipe v.5 can run wiping tasks created by other users or by administrator via Jetico Central Manager, we'd prefer to avoid an unexpected lock during an active user session. To protect the swap file, it is recommended to enable Swap File Encryption task.
See also: